We explain how to choose a rental bike
You have just arrived on the Ile de Ré after long hours on the road, and you have only one desire: to forget the car during your stay, and take advantage of your holidays to taste the charms of cycling.


Barely the unloaded suitcases, you are ready to rush to rent your bicycle. However, to prevent walks from turning into a nightmare, and your much-desired bike being used only for rides down the street, here are some tips for choosing the best bike for your needs.
To enjoy perfect holidays, it is very important to choose the right bike. Indeed, renting a bike is like renting a car: the choice depends on the use you want to make out of it. As soon as you are with your family, the choices are many: If you simply want to take short walks with your child, a simple bicycle with a classic baby seat will do the job perfectly.
On the other hand, if you want to leave the car in the garage, choosing a bike that is perfectly suited to your use is absolutely necessary. At Le vélo van , we offer you the rental of bicycles specially designed to transport your children effortlessly. In this article, we objectively detail how to choose a rental bike.
To book your family bike: family bike rental on the Ile de Ré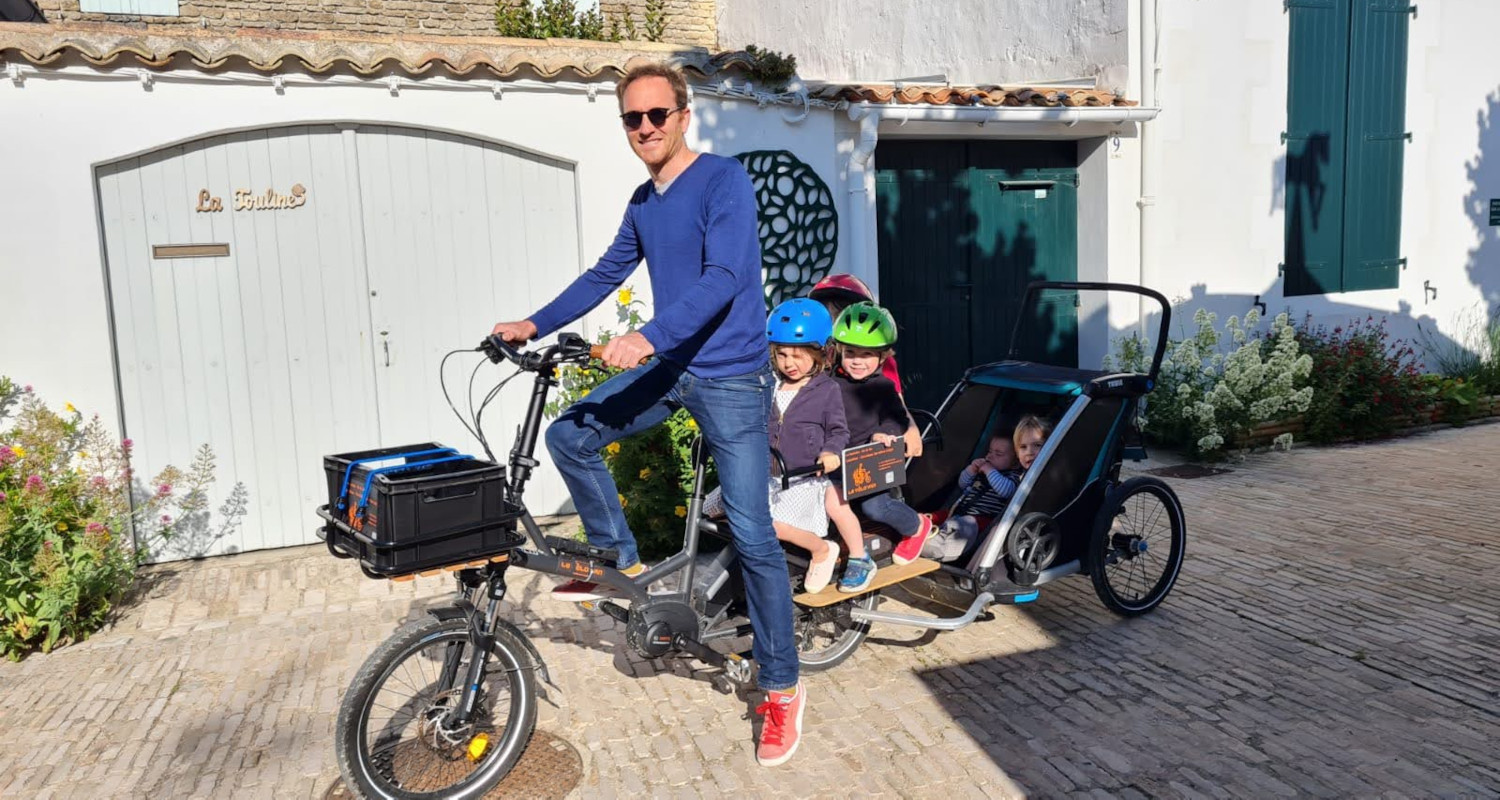 1. First determining criterion: age and number of children
The first criterion to take into account is of course the age and the number of children you wish to transport.


Under 9 months, a baby is not able to sit in a seated position long enough to use baby seats. Two solutions are available to you:
Use a trailer with hanging harnesses, specifically designed for transporting young children. Be aware that some trailers are equipped to put 2 babies side by side in complete safety, in the case of twins for example. At Le vélo van, we can offer you a trailer of this type.
Use a cozy to install on a two-wheeler or three-wheeler.
Note : Some manufacturers offer adapters for their cozy to attach to the luggage rack. We will not write about them here because they are only very rarely offered by bike rental companies.
2. The bike with baby seat
2.1 The standard bike
The cheapest solution is to opt for a classic bike, with the seat fixed to the luggage rack, or more rarely to the frame. Used by thousands of people, this solution does not present any particular security problem. Be aware, however, that this type of bike is not initially designed for this, and that rental bikes are generally made with inexpensive materials. This results in a sometimes precarious balance due to a fairly high center of gravity, as well as a feeling of heaviness due to the lack of rigidity of the frame.
2.2 The bike with a front tipper
These bicycles can have two or three wheels, the bucket used to transport children or goods being located in front of the bicycle driver. Due to their design, front tipper bikes (with two wheels at the front) are more stable since they do not require a crutch when stationary. They are, however, much heavier to move and less steerable.
On the contrary, two-wheelers (with a wheel at the front) are lighter and more manageable but less stable. We strongly recommend electric assistance, otherwise the weight of the equipment and the load, combined with the weather conditions, will transform your daily rides into a real physical test.
Be careful though: on the Ile de Ré, cycle paths and alleys configurations are mostly narrow with right angles without visibility bends and the density of cyclists can make the use of this type of bike uncomfortable, even dangerous. They are, in our opinion, to be reserved for short walks (home beach trip for example), or on fairly wide tracks. Be aware that you can, depending on the rental companies and the models, add a baby seat to the back of the driver.
2.3 The extended bike
This type of cargo bike, often called "long tail" for long tail, has the particularity of having a longer and much more robust luggage rack because it is directly integrated into the frame of the bike. It is therefore possible to install up to two baby seats, for the transport of two children who are not yet 5 years old, a bench seat for the older ones, or a combination of the two.
Some of those long tail bikes are ultra-compact and with 20-inch wheels. The result is a barely greater length than a standard bike and an extremely low gravity center, allowing identical rides to a standard bike, even with two or three children in the back. On these bikes, it is possible to put two baby seats, or a single baby seat with a bench seat, or a simple bench seat, depending on the age of the children.
As for the front tipper bikes, due to the weight and potentially difficult weather conditions, we recommend to rent bikes with electric assistance. Who has never bother against an unexpected headwind on the way back from a magnificent ride on the Ile de Ré 😉
3. Electric assistance
If you choose to rent an electric bike, rent a bike with an integrated motor in the crankset.


There are two main types of assistance: the wheel motor or the pedal motor. The wheel motor is placed in the wheel, mainly in the rear wheel. This type of assistance takes longer to kick in when you start pedaling, which makes the assistance less comfortable to use. The pedal motor assists you from the first quarter turn of the pedal, making the assistance almost undetectable. The comfort is therefore optimal. The major brands of electric assistance manufacturers only offer this type of model.
4. Synthetic
Renting a good bike can certainly change the face of your vacation.


We hopefully enlightened you if you were wondering how to choose a rental bike. In summary, we can simply say that there is no absolute choice, only the choice best suited to your use.
Le vélo van offers compact extended electric cargo bikes rental, because they are our daily bikes in our everyday family life and they best suit to family activities with children. We are bike enthusiasts who want to share our love for l'Ile de Ré and La Rochelle coupled with our love for biking with everyone who wants the best bike rental available. Le vélo van bikes allow you to visit the entire Ré island or La Rochelle City, effortlessly, from wherever you are located.
Thanks to their identical size to a standard bicycle, no difficulty in parking them in a bicycle parking lot. If time and money are as valuable to you as it is to us, join our growing list of satisfied customers. We also deliver your bikes to your home, at no additional cost. We handle your concerns and issues as if they were our own, and we guarantee an amazing Le vélo van experience or your next ride is on us.
Our personal opinion: To rent a long tail electric cargo bike is to adopt it!
To book your long tail cargo bike: long tail cargo bike rental on the Ile de Ré