The cargo bike rental specialist in Saint Martin de Ré
Cargo bike rental in Saint Martin de Ré is the new summer trend: Do you have children and want to go on long bike rides with them? You want to share everything with you friend, including your bike ? You love discover Ile de Ré by stand up paddle? You only dream of one thing: leaving the car in the parking lot during your holidays? Rent a cargo bike in Saint Martin de Ré, and have a much more fun holiday!

1. What is a cargo bike ?
A cargo bike is a bike designed to carry a much larger load than a conventional bike. Indeed, where a classic bike will be limited to 25 kg on the luggage rack and a few kilos on the front basket, the cargo can carry loads of several hundred kilos.
In the multitude of cargo bikes, two main categories are opposed. Cargo bikes called "bi carrier" or "tricycle" and longtail cargo bikes. We explain here how to make the right choice so that you and your kids can enjoy much more your rides.
First of all the bi carriers: a bi carrier is a cargo bike with two wheels, whose loading space is placed at the front of the bike (in front of the driver). The front wheel is thus offset from the handlebars. The front platform can then accommodate merchandise or child seats. On most of these cargo bikes, the number of children is limited to two, and their position is relatively low in order to lower the center of gravity. They are extremely long and therefore difficult to park in the village of Saint Martin de Ré, as well as in the bicycle parking lots on the beaches. They are also very heavy, and quite difficult to handle, because they are really different from a classic bike. Because of these disadvantages, it is quite difficult to find them for rent.
Then come the tree wheels cargo bikes. Same principle as for twin carriers, the load is in front. However, since they have three wheels, they are much more stable. As a result, they are generally equipped with benches allowing children to be seated. By packing a little, you can go up to four children.
If their handling is easier than with a twin carrier (because they are more stable), they are however extremely heavy. Do not expect to take long walks through the Ile de Ré. Driving pleasure is close to zero. This type of bike is often likened to a wheelbarrow: It's practical, you can carry a lot of things, but you don't get very far with it, and it's very uncomfortable. On the other hand, cargo bike rentals in Saint Martin de Ré are relatively common.
Finally, the last category of cargo bike, currently booming: the long tail cargo bike. The concept is completely different here since the load is placed on the back of the bike. The bikes are extended, and can carry up to two hundred kilos.
To book your cargo bike: cargo bike rental on the Ile de Ré
2. Interest of the long tail cargo bike
As we have seen above, the long tail cargo is distinguished by the fact that the load is at the rear. And that makes all the difference !
The Ile de Ré is a paradise for those who want to enjoy nature on their bike. Get lost in the white streets of the villages of Saint Martin de Ré and Ars en Ré, stroll through a medieval market in La Flotte. In the afternoon, enjoy the beautiful beaches on the south coast between Sainte-Marie, Le Blois Plage and La Couarde. Isolate yourself on the wild beaches of the north of the island between Saint Clément and Les Portes. Visit the Loix peninsula, lost beyond the marshes. The dream !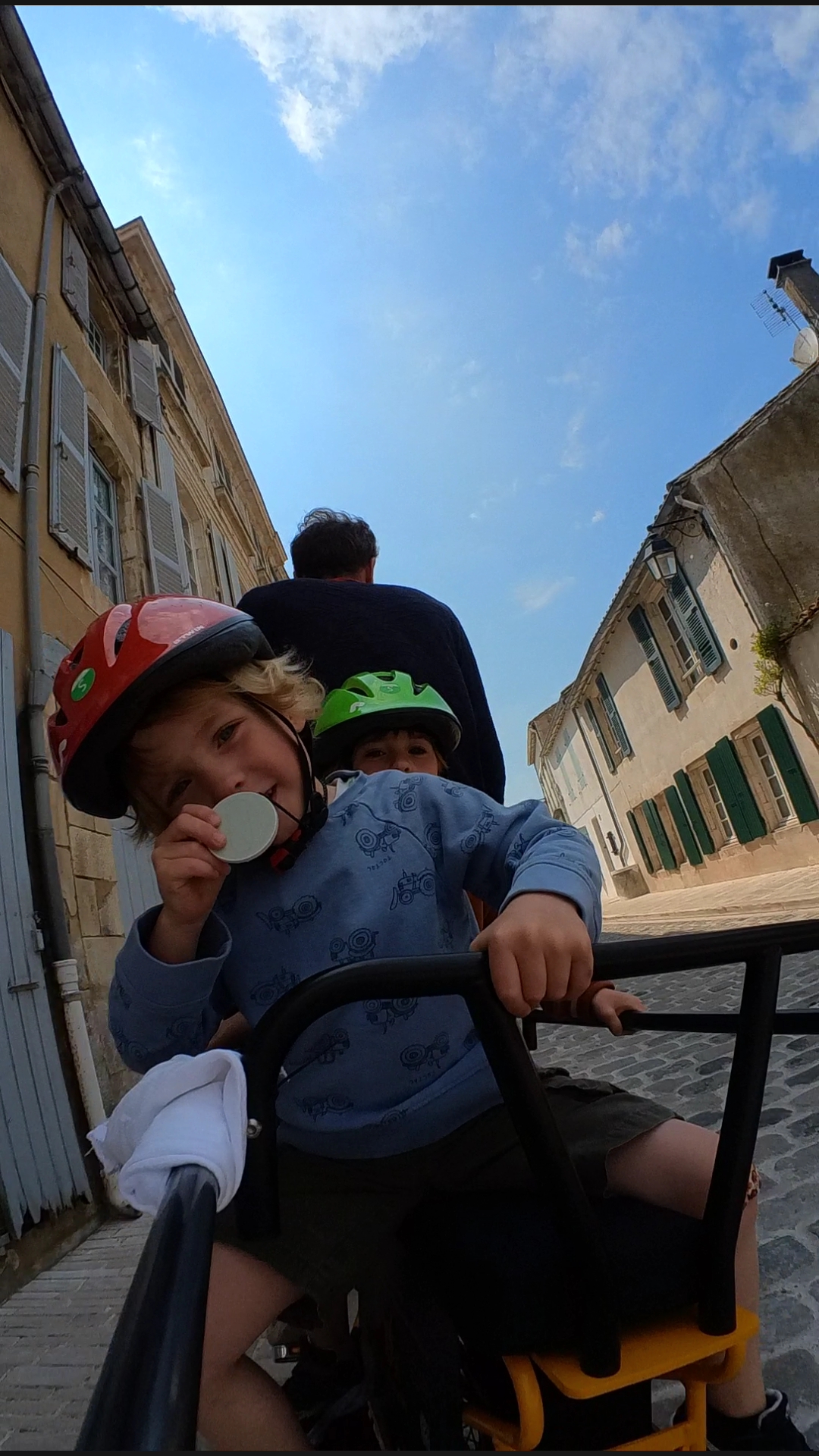 By renting a long tail cargo bike, this dream becomes reality: The child or children, in their trailer at ground level, would only have seen the wheels of the other bikes, they will be able to enjoy the same landscape as you on your long tail cargo bike. . The child or children, too big for the trailers, would have taken their bikes, thus limiting the possible distance, you can visit Saint Martin de Ré, go to the beautiful little beach of the target, enjoy an aperitif at the bar, stroll in the whole Ile de Ré with your cargo bike by putting your children behind you. No need to shout to share your discoveries.
More concretely, the interest of the long tail cargo bike is simple: Our cargo bikes behave like a standard bike, Dutch type riding position. The children are behind you, free to move, free to share their discoveries with you. All this of course in complete safety, for them as for you.
3. What can you do on a cargo bike
The answer is quit simple. If you choose to rent a cargo bike in Saint Martin de Ré, you can leave your car in the garage during your entire stay. And it makes a big difference for your holidays!
You are on vacation on a paradise island. Want to go to the market to do your shopping? No problem, thanks to our ultra-compact cargo bikes, you can park in any bike parking lot. A big refil ? Nothing could be simpler, with their front and rear boxes, and their side panniers, our cargos can easily transport your shopping cart. Then comes the time for a ride on the cycle paths with the children.
Thanks to its multiple configurations, you can transport two children from 1 year old. We can equip our cargo bikes with two baby seats (which go up to 22 kg), a bench seat for 2, or a mix of both. Of course, our cargo bikes are all equipped with a front box supporting up to 15kg. Perfect for towels! Thus, there are no limits to your outings, and all this without starting the car!
4. Is a cargo bike heavy?
While three- wheel cargo or two-wheel cargo bikes can be significantly heavier than a conventional bike, the extended long cargo bike remains relatively light.
Our bikes are specially designed to maximize the pleasure of use. They are therefore light, and above all, all our cargo bikes are equipped with top-of-the-range electric assistance, which guarantees you up to 80 kg of autonomy. Whatever your place of residence, you can go from one end of the Ile de Ré to the other without effort.
In addition, the extremely low center of gravity of our bikes gives you a feeling of lightness, even when children are on it. Our bikes can be used by everyone, whatever your size. The grip is so simple that you instantly forget that you are on a cargo bike. We summarize:
Large safe loading capacity
Transport of one or two children (even three over short distances)
Electric assist
Instant grip
Do not hesitate any longer, during your holidays in Saint Martin de Ré , offer your children a unique experience with our cargo bike rental !
5. Can we use all the cycle paths on the Ile de Ré?
Our cargo bikes are barely longer than a standard bike, driving is completely identical to that of a classic cycle. So, no worries, you can use any bike path, and even more!
As we have seen previously, renting an extended cargo bike is the ideal solution for anyone who wants to do without their car during their vacation. If you choose to rent a cargo bike with a front box, some cycle paths will be difficult or even dangerous to take, especially when turning at right angles, or more generally when crossing tracks or roads.
Indeed, the driver being away from the front wheel, he must engage the bike even before having checked that the way was clear. With an extended cargo bike (or long tail), you are like on a classic bike: you only get involved after checking that there is no danger.
In addition, be aware that freighters with a front body are almost unusable on remote paths. With our extended cargo bikes, no problem, you ride normally, on tracks, roads and paths, safely and effortlessly!
At le vélo van, all our cargo bikes are fully equipped and meet all safety criteria. They allow you to ride safely with two children or one adult behind you. So don't hesitate any longer, for your cargo bike rental in Saint Martin de Ré , choose the van bike !
6. In conclusion
In conclusion, there is no hesitation! For your cargo bike rental in Saint Martin de Ré, choose a van bike!