Rent a bike for two babies : the double mini van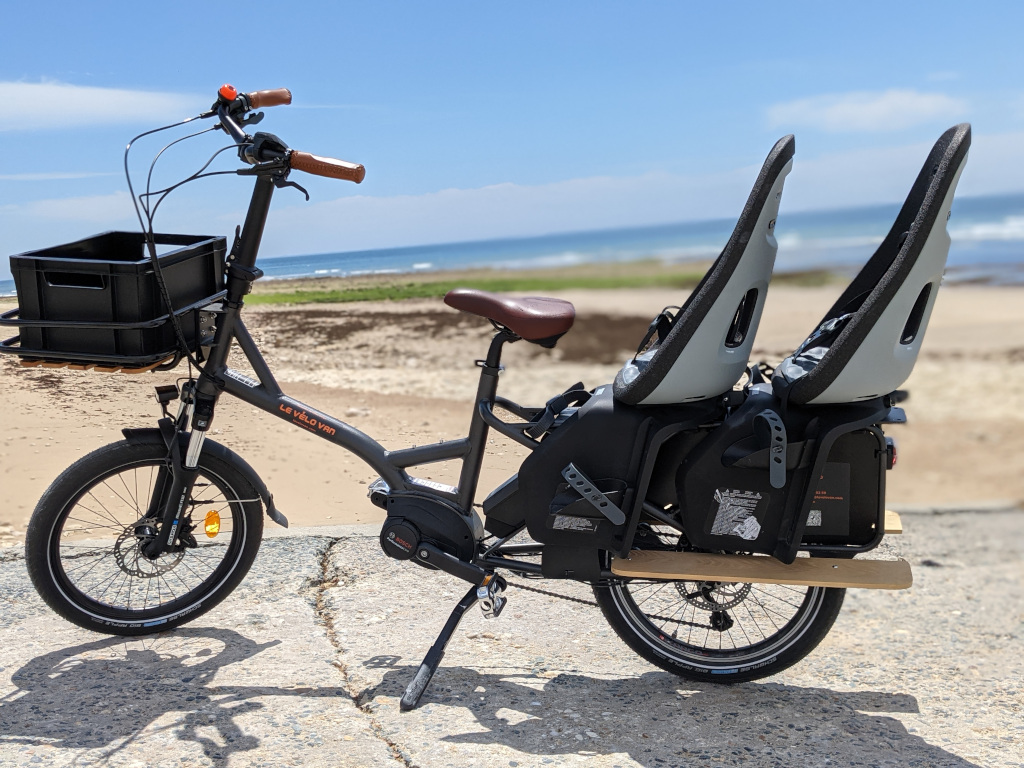 The double mini allows two children under 5 to be transported safely on a single bike.. Lugage rack integrated into the frame ensures that the baby seatsare perfectly fixedand guarantees bike's rigidity. The 20-inch wheels lower the bike's gravity center. Thus, you drive your double mini van like an ordinary bicycle, forgetting the weight of your load.
Thanks to the two disc brakes, you can stop in afew meters, with no risk of uncontrolled skidding.
The motor, Bosch brand, will assist you in your efforts. Thanks to its 4 levels of assistance, you completely forget about your children's weight.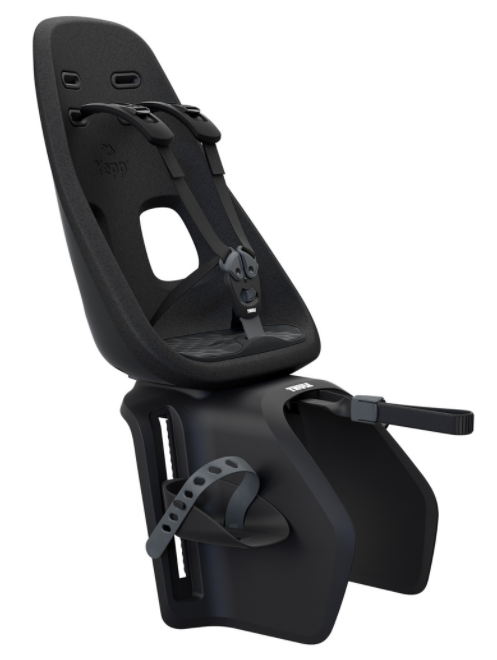 All our baby seats are from the Thule brand, well known for high quality products.
The padded and adjustable 5-point harness ensures your children great comfort. Its comfortable seat is specially designed to absorb shocks and vibrations during your ride. The adjustable footrests adapt to your children in order to provide them with comfort and a safety feeling.
Finally, the magnetic buckle with child safety allows you to quickly attach your little ones, without them being able to detach themselves during your ride.
An ultra-efficient electric motor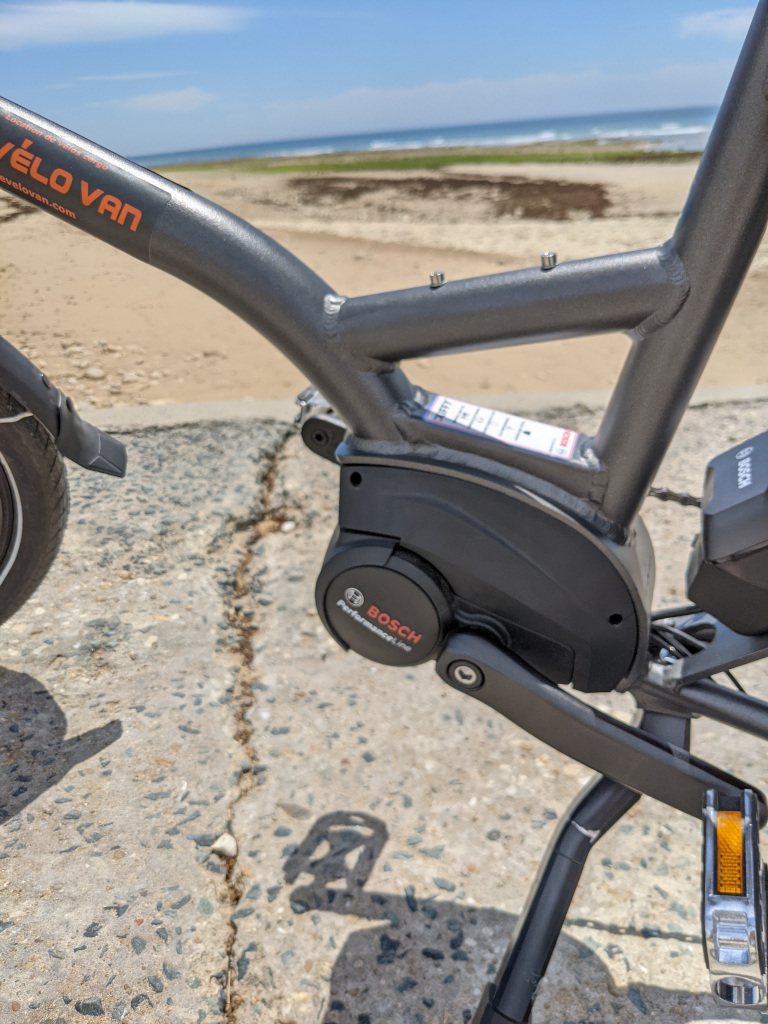 Most versatile motor in the Bosch E-Bike range, this system allows you to ride at all speeds, while giving you the right amount of assistance at the right time. At high speed on long straights lines, or at reduced speed in complete relaxation, the engine flexibility will simply make you forget its existence.
This engine was designed with the aim of bringing you the most natural experience possible. Efficient and versatile, it provides dynamic acceleration and guarantees an authentic experience thanks to minimal pedaling resistance, even without assistance.
Requiring less effort and giving you more pleasure, this engine is dynamic and sporty, even at low pedaling frequency, providing powerful assistance from the first pedal stroke.
In addition, thanks to its innovative soundproof transmission, you drive in complete peace of mind, in perfect symbiosis with your environment.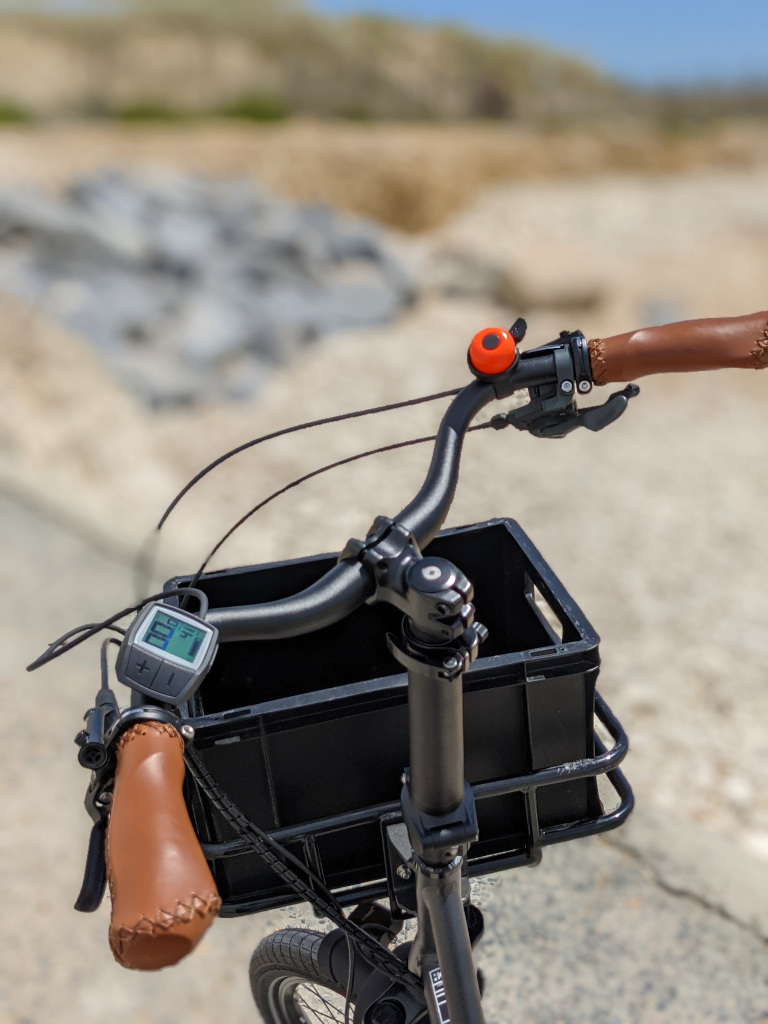 For your comfort, all our Le vélo van bikes are equipped with a front basket allowing a twenty kilos load. Thus, you can easily put your handbag, beach bag, or any other specialties bought in local and historical markets.
For your comfort, a case perfectly adapted to the basket size is provided. Thanks to it, you no longer need plastic bags: directly take the case for your shopping. It's simple and eco-friendly!